Gerber Remix Tactical Knife Review: Hands-On
25 juin 2020
211

17 minutes read
To say that I am picky when it comes to knives, is a gross understatement. This is especially true for knives of a more tactical nature.
Knives in this category tend to get a lot of "ooo's" and "ahhs" simply based on their looks and not what is under the hood or their usability. If they look badass then that seems to be good enough.
Generally, I tend to stick to knives that are more suited for outdoor use but the knife I am reviewing today is of a different nature.
The Remix Tactical Knife by Gerber is a folding pocketknife with some interesting features. I have carried this model as my everyday carry (EDC) knife for quite some time now and wanted to share my experiences with this tactical folder.
Last update on 2020-06-25 at 08:28 / Affiliate links / Images from Amazon Product Advertising API
Gerber Remix Tactical Knife Review
Style
The first thing that I noticed about the Gerber Remix is that it does not look like your typical folding knife.
It is a tanto style blade with a serrated edge on the back end.
What sets this knife apart from others that I own, is its rather unique handle design.
Handle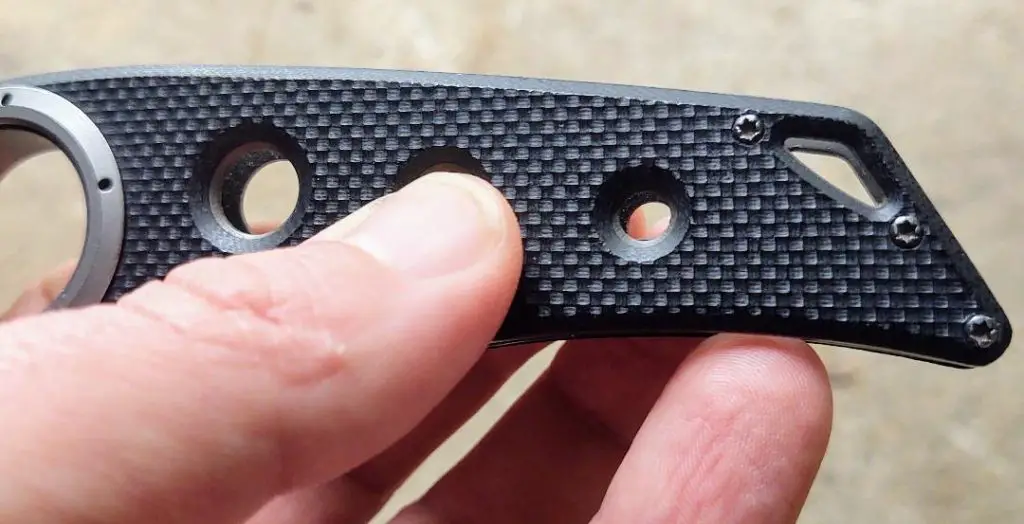 The handle is an open frame style and is made from stainless steel with black G-10 checkered overlays. However, what really grabs your attention is the circular ring between the blade and the handle. Not only does the ring cause the knife to stand out over others, it provides a more secure grip when in use. The handle also features a lanyard hole, which will help in keeping the tool from becoming.
Dimensions
The blade measures in at 3", an overall length of 7.86", and a weight of just 4.6 ounces.
Blade Material
The knife is constructed from 7Cr17MoV steel.
Lockable
Has a liner style locking mechanism. To unlock, simply press liner lock to the side with your thumb and close the knife shut.
Thumb Lift
An ambidextrous thumb lift on the spine of the blade makes the Remix user friendly and ensures quick deployment every time.
Pocket Clip
A contoured, flexible pocket clip allows for the knife to be carried tip up.
My Experience
As I hinted at earlier, I did not used to be much of a tactical pocketknife kind of a guy. I tend to carry blades more in line with the Buck Hunter Folder, Cold Steel Pocket Bushman, or a Swiss Army Knife. But I decided to give the Remix a try. Listed below are my thoughts after carrying this knife for almost a year.
First Impression
I must admit something. When I first saw this knife, I did think it looked flipping cool. Something about the mixture of the tanto blade, serrations, circular ring, and sleek handle combined nicely to form one cool looking knife. While I do appreciate a visually pleasing product, knives are meant to be used. So, does the Remix just look nice or does it have more to offer?
Thumb Lift
I have never had a knife where the thumb lift was directly on the spine like it is on this model. It looks slightly out of place and a bit large. I thought it would get in the way of its operation or catch on my pocket when removing it. But I was wrong.
It is strategically placed to be used by both left andright-handed individuals and never did it catch on my pocket. When the knife is extended, it also provides an amazingly comfortable thumb rest.
The thumb lift is secured to the spine of the blade by a small screw. Only after a lot of use did the lift begin to loosen slightly which was easily fixed by tightening the screw. FYI, a very small driver is needed for adjusting hardware on this knife.
Blade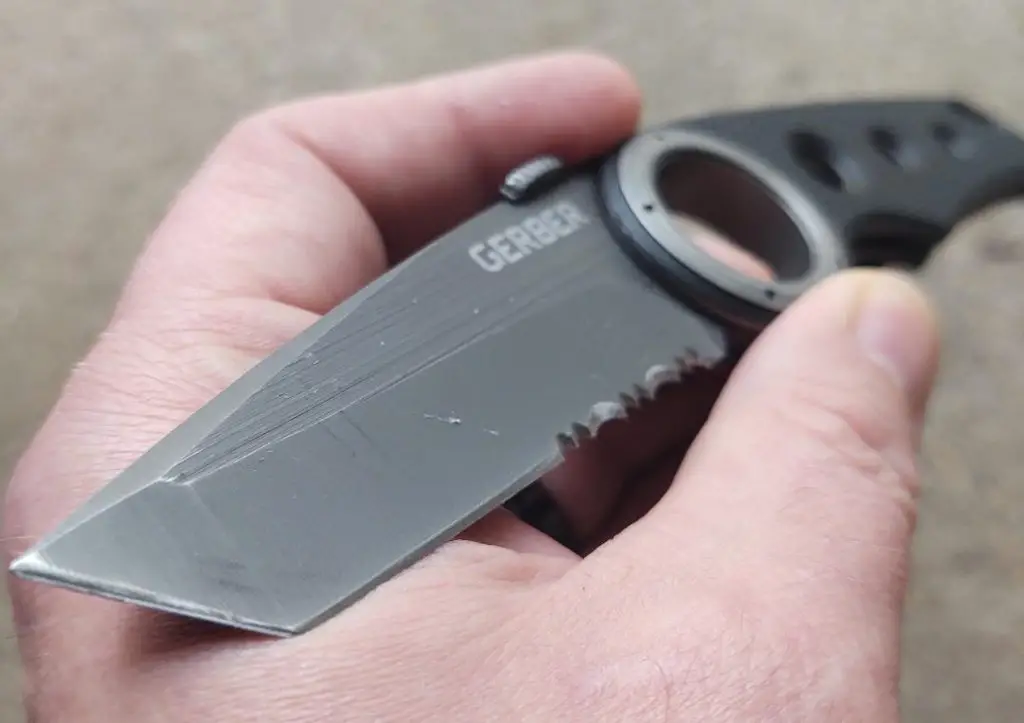 As expected, the blade was extremely sharp right out of the package and all those edges held up to a lot of use. I really like the three cutting edges offered on this knife. The tanto edge, straight edge and serrations give the blade more versatility.
The front end, tanto, offers great penetration and opens items like packages, boxes, and thicker materials like a champ. The fine point also offers more control for detailed tasks.
The straight edge is large enough to take care of my daily cutting needs like slicing open food packages, cutting cordage cleanly and minor scraping tasks just to name a few. A quick side note,sometimes I find myself tilting the blade up slightly to keep the serrations from interfering in certain cuts. Overall, this does not interfere with most tasks, but it is something to keep in mind.
For rougher cutting jobs where I do not need the cut to be clean or the material is thicker, I turned to the serrated portion of the blade. Having the serrations on the back end of the blade near the circular ring helped in being able to apply more pressure when ripping through cordage, straps, and thicker materials.
Sharpening
One downside to this blade is the need for two different sharpening surfaces, one for the straight edges and one for the serrations. It also requires a bit more time and patience. Personally, I don't find this to be a big deal but those that don't appreciate the sharpening process might not enjoy this aspect.
For the straight edges I used a sharpening stone, when needed, or a flat diamond sharpener. And for the serrations I used a rounded diamond sharpener.
The Handle
The bottom and top of the handle are open and there are holes that go all the way through the scales. Dirt and other debris easily find its way inside but because everything is open, it is also easy to clean. A shot of compressed air or a wipe down with a damp cloth will quickly clean the majority of the handle.
I found the textured scales of the handle to be comfortable while at the same time providing a little bit traction to my grip. Of course, sliding my index finger into the circular ring is what really gives me a firm grip on this knife. I was not sure if I was going to like the ring, but it turned out to be extremely comfortable during handling. Out of all my pocketknives, the Remix feels the most secure in my hand.
About the only real complaint I have about this knife during operation is the pocket clip. Sometimes, not always, if I squeeze my hand too tightly around the handle then the clip will pinch the skin of my ring finger. It does not cause any damage or even really hurt, but it is briefly uncomfortable.
Outdoor Uses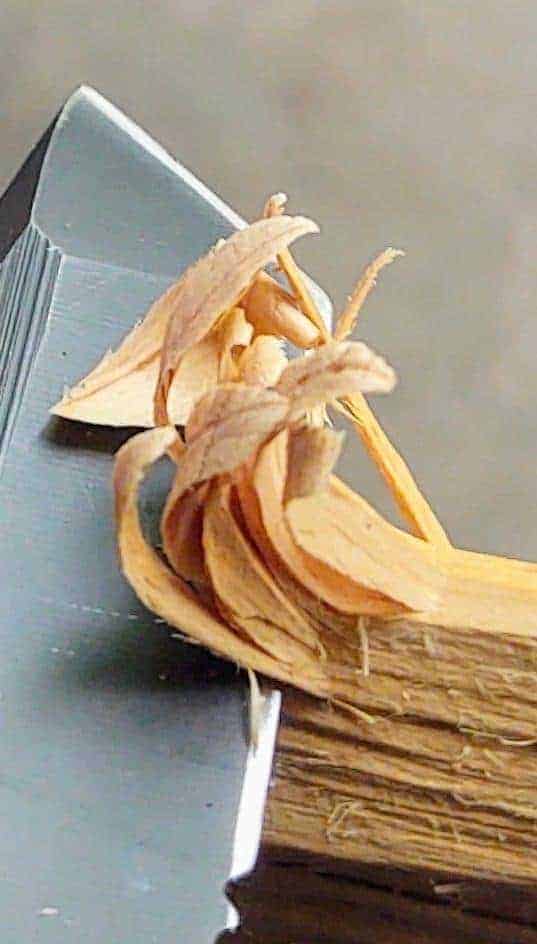 It might not seem like this knife is good for the outdoors,but I used it equally well outside as I did inside. The following are a few outdoor tasks I have used it for.
Cutting cordage such as paracord and other nylon ropes
Creating wood shavings for tinder
Used the serrations like a saw to create tinder dust. I do not particularly recommend using the serrations in this manner, but it works.
Cutting light and heavy-duty straps from gear and other packages
Used the point of the knife for gear repair (creating holes)
Used the point of the knife for "drilling" small holes in wood.
The tanto edge can be used almost like a chisel for scraping tasks
The spine or the cutting edge works well with a ferrocerium rod for fire starting.
---
Pros and Cons of the Gerber Remix Tactical
Pros
Tanto blades have superior penetration ability
Incredibly comfortable and secure feeling
Quick deployment
One handed opening and closing
Four useful parts of the blade, point, tanto, straight cutting edge, and serrations
Lanyard hole
Easy to clean
Affordable
Cons
Requires more time to sharpen
Requires two different sharpening surfaces. A flat one and round one
Part of the blade near the spine has a very rough finish
Hardware on the handle and thumb lift is very tiny. Will need to purchase a very small driver in order to tighten.
Pocket clip can pitch the inside of your hand
Last update on 2020-06-25 at 08:28 / Affiliate links / Images from Amazon Product Advertising API
---
Open Questions About the Gerber Remix
Q: Is the Remix a good every day carry knife?
A: Yes and no. Yes, because it is quite useful in a variety of cutting, slicing, and penetrating tasks. It is also lightweight and can be carried discreetly. I say no depending on where you live. Check your local laws for blade length and how tactical knives are viewed in your area.
Q: Is the tanto edge difficult to sharpen?
A: Not particularly. When using a sharpening stone, it will be sharpened in a similarmanner as most knives. The only thing that is different is the direction of the stroke and how the stroke is ended. I recommend watching one of the many good tanto knife sharpening videos available on the web.
---
Verdict
Okay, I will admit it, I think the Remix Tactical Knife looks and feels like a badass knife. But it also has some surprising functionality as well as being one darn comfortable knife to hold. If you are looking for a unique tactical knife that looks cools, is versatile in everydaytasks and is affordable I suggest adding this one to your collection. Feel free to add a comment below and as always, stay sharp!
Last update on 2020-06-25 at 08:28 / Affiliate links / Images from Amazon Product Advertising API
Source de l'article